5 March 2022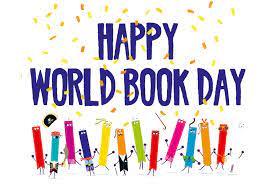 We had an amazing time on World Book Day which for us took place Friday.
We were surrounded by Harry Potters, Willy Wonkas, BFGs, super heroes, Little Red Riding Hoods, Gangsta Grannies, Ratburger's nasty Burt, Where's Wallies, Hiccup from How to Train your Dragon (with his own inflatable dragon), the goddess Freya, a 5 foot high inflatable dinosaur, Worzel Gummidge and lots and lots of princesses as well as so many other characters too many to name!
Our photos will be going on the School Facebook page and it was such a fantastic chance to celebrate the joy of books and reading.
We are continuing to help and support all of our children to enjoy books and reading through our:
Daily Reading lessons at Key Stage Two, our Phonics Shed and de-codeable books for younger children, our Guided Reading sessions at Key Stage One and Early Years, our daily readers, our class novels/books that we read daily to and with the children, our wonderful Library/Learning Pod, our links to the Library service and fantasic book awards, our annual Scholastic Book Fair and our curriculum that Opens Doors into the wonderful world of books for adventure, research, information, celebration and understanding of the world, themselves and others.
If you would like to help our children by coming in to hear them read then please get in touch and, once we have sorted out DBS checks, will support you in helping our children with the most important skill of their life.